(German Crusty Bread Rolls)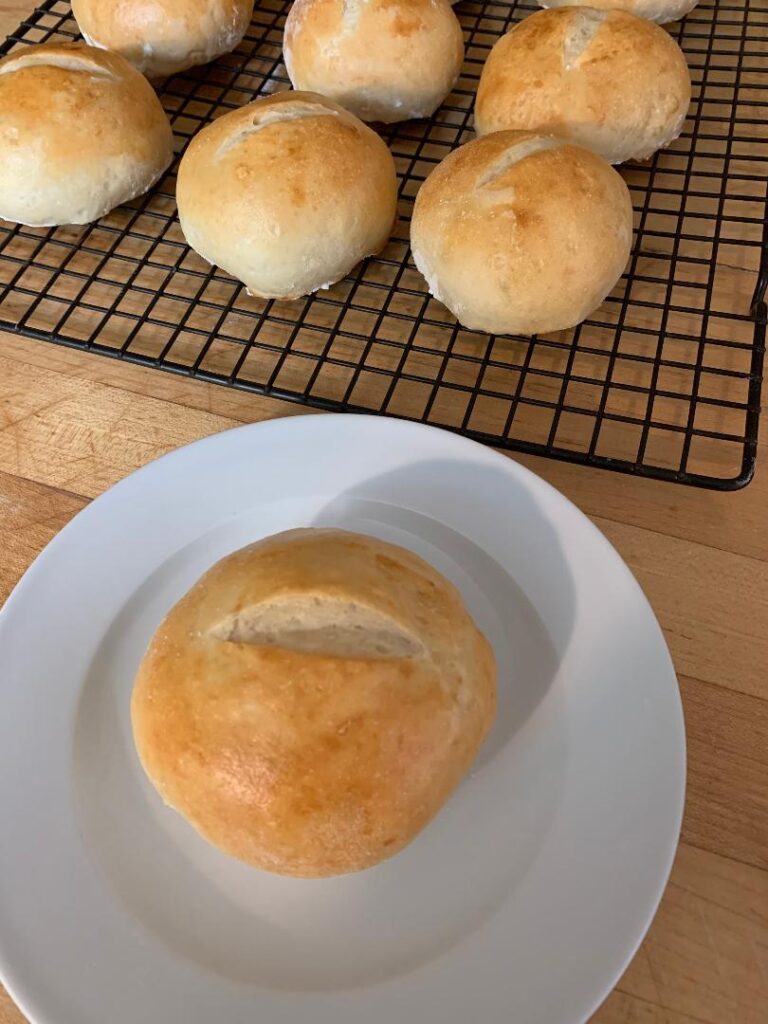 https://www.soft4car.net/47692-dtf37440-site-gratuit-rencontre-femme-black.html I love these rolls because they are amazingly crispy and they are exceptionally good if you have them with German sausages, like bratwurst. My dad and older brother like to have them with sauerkraut and spicy German mustards or Coleman's Spicy mustard. My little brother puts ketchup on them which I think is weird. My Mom adds Inglehoffer cream style horseradish on hers. I like mine with just spicy mustard.
Ingredients
1 Tablespoon active yeast (I like Red Star Yeast)
2 egg whites (large eggs)
1 tablespoon butter softened
3 ¾ cups all-purpose flour (I like King Arthur Flour)
Directions
Put warm water in mixing bowl. Add sugar and stir until dissolved. Sprinkle yeast on top and wait 5-10 minutes until yeast becomes foamy. One the yeast is nice and foamy add salt, flour, egg whites, and butter to mixing bowl. Use a dough hook and mix until the dough has formed almost into a ball, if sticking too much you may need to add a bit more flour (do this a tablespoon at a time as you do not want the dough too dry). Remove dough to a lightly floured surface and gently knead it for a minute or two. Lightly grease a large bowl and place dough inside, cover it with a damp towel or saran wrap and place it somewhere warm to rise. Our oven has a "proof" setting that is the perfect temperature for proofing dough to rise. Let dough rise for about an hour.
Once the dough is ready put it on a lightly floured surface and gently fold it over a couple of times. Separate dough into 12 sections. Sometimes I use a food scale to measure dough and make sure they are all similar size. Sometimes I just guess and cut it into 12 semi even pieces. Take each piece of dough and form it into a ball and place it on parchment lined cookie sheets (or lightly greased cookie sheets).
Cover with clean cloth and let rise again for about 45 minutes in a warm place. They should double in size.
Preheat oven to 425 degrees F. We have a steam bake tray in our oven, so I add water to that when I preheat to oven. The steam the water creates is what makes the rolls crispy. If you do not have that option add an empty cookie sheet to the bottom of your oven and right before you put the rolls in add a cup of ice cubes to that tray.
When dough has finished the second rise make an egg wash with one egg and 2 tablespoons milk. Brush that on top of rolls and then cut a deep slash in each roll before baking.
Bake for about 18 to 20 minutes. Make sure the top of the rolls is browned.
Let cool and enjoy!!